Today, finding a place to live may not be as hard, since there are thousands of houses for rent across Canada. These houses also open up opportunities for immigrants who come to the country for work. On the other hand, it has also become one of the most promising types of businesses for people who like to invest in real estate and create passive income out of it. Being a landlord, though, involves certain responsibilities that cannot be taken for granted.
"If the cause of the leak was negligence-for example, carelessness in maintaining or fixing the pipes-the landlord may well be responsible for any damages or losses caused by the negligence. Negligence may be established, for example, if the tenant can demonstrate a pattern of having told the landlord of a non-working plumbing system or worsening leak, which the landlord then effectively (if not actually) ignored. If the landlord didn't fulfill his duty to keep the plumbing in good order, he could be responsible for paying for any losses, which would include property damage (e.g. if the tenant's belongings are damaged) or a heightened water bill."
Plumbing concerns are one of them, as explained by the article from FreeAdvice.com. This set of laws particularly apply when it comes to emergency repairs, where leaks that could compromise the health and safety of the tenants fall under.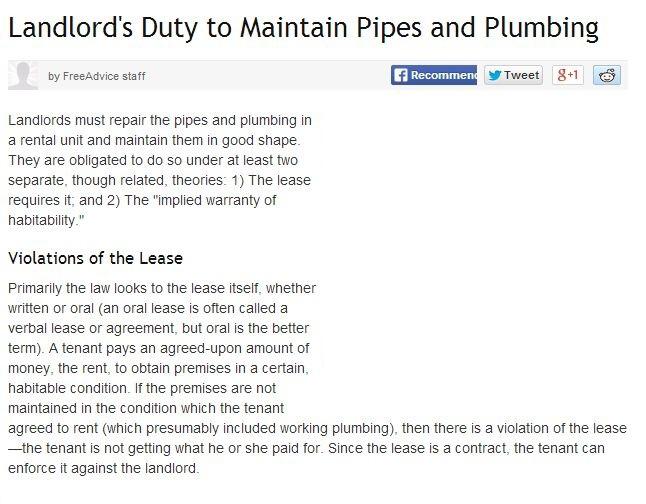 We have heard of cases of landlords, as well as homeowners, who choose to address their Saskatoon plumbing issues by themselves, with the very limited knowledge they have. Though some succeed, a greater majority fail in repairing their plumbing concerns for a good number of reasons. For landlords, they should treat plumbing-related expenses like repairs and maintenance as part of their investment.
Moreover, having these plumbing problems perfectly fixed should be the ultimate goal of all homeowners, which can be achieved through the help of experienced Saskatoon plumbers. By hiring these trusted plumbing contractors like Perfection Plumbing & Drain Cleaning Ltd., homeowners can rest assured that the issues are attended to appropriately. These companies employ trained technicians, who are equipped with some of the latest plumbing tools and have ample knowledge to get the job done correctly.
(Source: "Landlord's Duty to Maintain Pipes and Plumbing," FreeAdvice.com)