Having faulty water pipes can cause a lot of headaches. This is especially true if it results in massive basement plumbing, or worse a $13,000 repair bill. Keep in mind that far horrible things can happen. though, Things like the incident Jerome Lessard reported for Trentonian back in August 2010:
A two-kilometre-long pipeline connects the world's most northern military base to its freshwater source.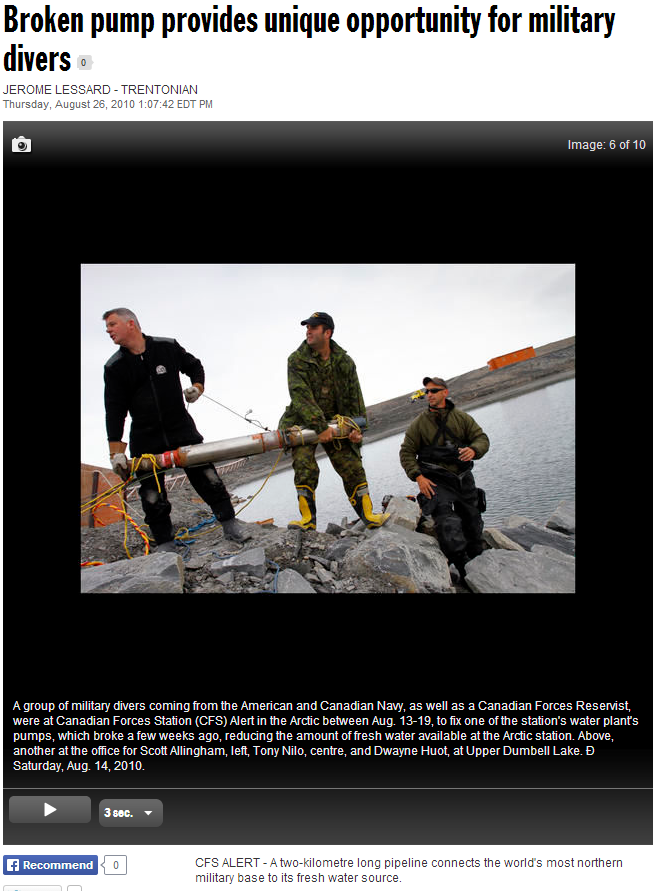 A few weeks ago, one of the two pumps at Upper Dumbell Lake broke. This caused a reduced amount of fresh water available for civilians and troops stationed at the Canadian Forces Station (CFS).
Military divers were called to Alert for three weeks to help fix the pump.
Plumbing Emergencies
People should stop worrying that similar things can happen to them. Residential plumbing systems are far less complicated than the ones they use in the Arctic area. When it comes to emergencies like blocked drainage or water pipe leakage, Canadians can be assured that their trusted Saskatoon plumber company will reliably deliver the same kind of service as the elite team of military men did for the busted water pumps at CFS Alert.
Canadians can think of plumbers as soldiers trained to battle the toughest of pipes and water system adversaries there are. Little do people know that plumbers, before getting their licenses, undergo a heavy 4-year apprenticeship. They learn from master plumbers, who can be considered their drill sergeants, from whom they learn the ropes of the business. At the same time, apprentice plumbers take classroom instruction in skills, like reading blueprints, and must pass an exam to obtain their license.
Plumbing Professionals
Saskatoon plumbing service providers make sure that every plumber carrying their name has the correct industry knowledge. They also need to be equipped with the right tools to get the job done. Companies, such as Perfection Plumbing & Drain Cleaning Ltd., do not let their plumbers go into the field without the necessary set of artilleries. These include pliers, basin wrenches, pipe wrenches, and compression sleeve pullers, among others. They also make sure that their uniformed men would get to their place of assignment on time. Most importantly to get the job done in the quickest and most effective way possible.
Professional plumbers do all the necessary processes to completely assess every situation to find the root cause of the problem and see the extent of the damage. They will also explain to clients the real situation, the options available to them, and the procedures they have to do to give the needed fix. Plumbers may not be assigned to warzones, per se, but they're certainly soldiers that households can rely on.
Source:
Broken pump provides a unique opportunity for military divers, Jerome Lessard, August 26, 2010