Flooding normally occurs with an exceptional volume of rainwater. It can be caused a nearby body of water to overflow towards dry land and communities. Shifting climate conditions, however, has given spring the unusual power to cause massive flooding. This flooding may be caused by melting mountains of snow from the previous winter. Knowing a plumbing company that offers drain cleaning services is a good number to have. CBC News reports on how the flooding affected the lives of Calgary residents: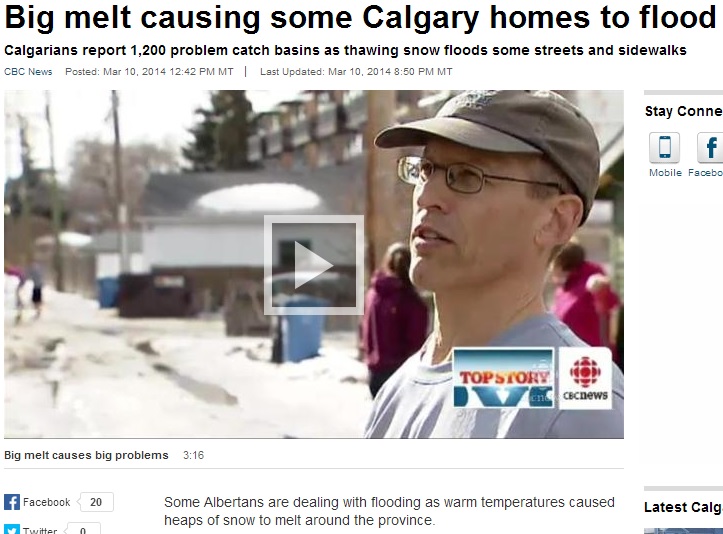 "Some Albertans are dealing with flooding as warm temperatures caused heaps of snow to melt around the province.

Alberta Environment and Sustainable Resource Development's sent out an emergency alert Monday afternoon warning of overland flooding due to rapid snow melt across the province.

In Calgary, the basement of Krista Beavis's Southwood home flooded Sunday because of the thaw.

"It's frustrating — makes you feel a little sick at the time. But just trying to put one foot in front of the other," they said."
Guidance
One cannot be absolutely prepared for the effects climate change bring to human life.  This must not discourage people from taking mitigating actions. U.N. agencies, such as the Intergovernmental Panel on Climate Change, for example, regularly publish guidance. They share how the phenomenon may make living in certain areas different from what it used to be. Things like this are useful to help the public decide whether they can implement improvements on their house systems themselves. It also informs them if they'll need the help of contractors that provide Saskatoon drain cleaning services to address flooding. Companies such as Perfection Plumbing & Drain Cleaning Ltd. are always glad to help.
Regularly Clean Your Drains
Apart from flooding caused by climate change, homes are also prone to floods. It can be brought about by simple clogs that may hamper the disposal of wastewater. This kind of flooding can inflict water damage on floors and walls. Also known to expose people to possible health risks, as people can come in contact with dirty water. These issues make it imperative to regularly clean drains.
People can opt to clean their home drains themselves. They also have the option to employ the services of professional Saskatoon drain cleaners. By hiring professionals, homeowners are assured that any drain-related problem can be addressed. They can even relay to the plumbers that they prefer environment-friendly cleaning solutions to be used.  This won't further aggravate the environmental dilemma everyone is now facing.
Source:
Big melt causing some Calgary homes to flood, CBC News, March 10, 2014